Whether in the supermarket, in the city or at school and university – a cotton bag is the perfect companion for on the go. Especially as an alternative to a plastic bag, a cotton bag stands for environmental friendliness, style and flexibility. An organic cotton bag is particularly sustainable. With the right design, it becomes a new bestseller in your online shop. With organic cotton print-on-demand items you meet the increasing demand for environmentally friendly products and attract even more people to your shop.
The Others can pack up
Currently, cotton bags are more popular than ever before and are not only super practical for carrying your belongings, but are also a fashion accessory. Cotton bags are environmentally friendly and at the same time easy on your wallet. Having your own bag with you at all times means you no longer have to spend money when you are asked at the checkout: "would you like a bag with that?". In fact, many supermarkets dispensed with plastic bags completely and are now fully in line with the trend. But did you know that the paper bag as an alternative is not very eco-friendly either? Usually it is made from new wood fibres and goes through a complex production process that consumes large amounts of energy and water. A paper bag has to be used at least three times as often as a plastic bag to compensate for its carbon footprint.1 And with such a sensitive material as paper, that can be a real test of strength.
One thing applies to every material: the more often a bag is used, the better its ecological balance. And while plastic and paper bags are not particularly robust, a cotton bag can be used for years without breaking. And this is the advantage of long-lasting cotton bags: frequent reuse saves resources such as energy and water in the long run.2
The most sustainable is a bag made of organic cotton. Unlike the usual cotton plants, organic cotton does not require genetic engineering nor chemical pesticides. Organic cotton plants also produce seeds that can be used to grow new plants. Organic cotton, which is mostly grown by smallholders, needs less water in production than conventional cotton and is overall much more environmentally friendly.3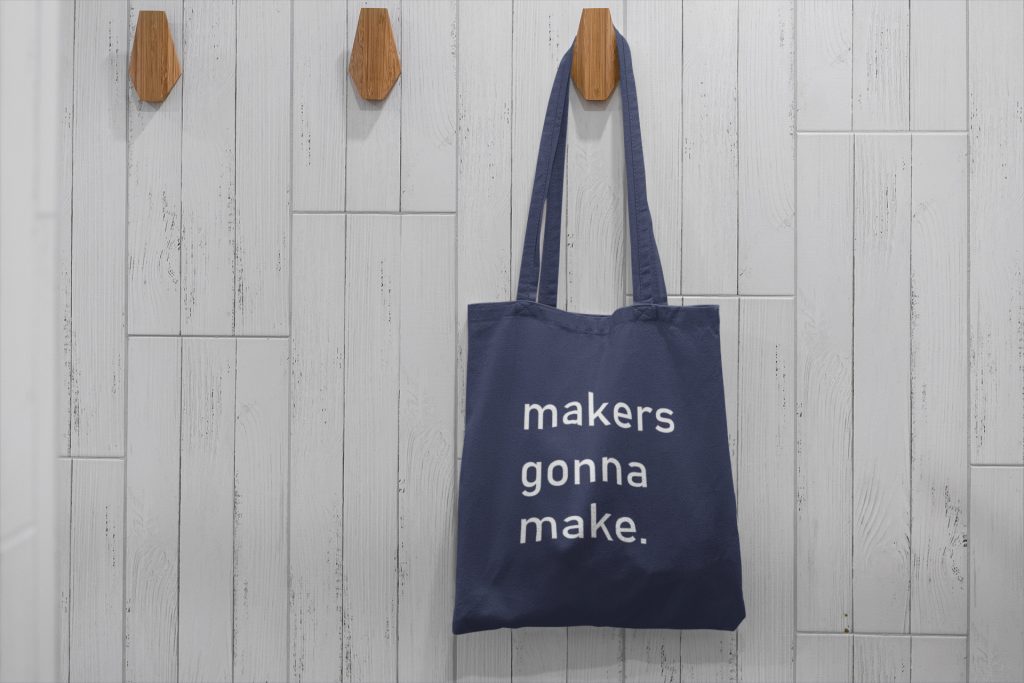 Organic Cotton Bags for Your Online Business
No wonder the demand for organic clothing and accessories such as bags is growing. If you want to meet the increasing environmental awareness of your customers, expand your product portfolio in the organic sector. Besides t-shirts, hoodies and sweatshirts made of organic cotton, a sustainable cotton bag is the ideal addition. You can enlarge your existing range or give your brand a new image by focusing more on sustainable products.
The organic cotton bag is a practical, light and stylish companion for your customers. With its long handles it can be worn over the shoulder for more freedom of movement in everyday life. The bag is available in Black, French Navy and Classic Red, measures 38 x 42 cm and can be printed with a design that suits you and your brand. Especially popular are bags with a funny slogan or statement. Or you can turn your cotton bags into stylish fashion accessories by giving them a particularly eye-catching design. Just let your creativity run wild and create your own organic cotton bags.
Sell organic cotton bags via dropshipping
Convinced that you can benefit from self-designed organic cotton bags? Perfect! After you have designed your cotton bag according to your wishes, import it into your online shop or marketplace. With Shirtee.Cloud you have the possibility to sell print on demand products via shop systems (e.g. WooCommerce, Shopify or Shopware) and marketplaces (like Amazon, eBay or Etsy) using dropshipping. If someone buys your self-designed cotton bag, we take care of the fulfilment. We print, pack and ship the bag in your name. This allows you to focus on the design and marketing of your products.
Let's go! Start right away with creating your own organic cotton bag.
1 Source: https://www.nabu.de/umwelt-und-ressourcen/oekologisch-leben/alltagsprodukte/19463.html
2 Source: https://www.bayern3.de/warum-die-papiertuete-keine-gute-alternative-zur-plastiktuete-ist
3 Source: https://utopia.de/ratgeber/bio-baumwolle-wissenswertes/