Placeit is a powerful mockup generator that provides its users with various templates and tools. You can see here how to use the tool to promote your designs as well as your e-commerce business.

When researching how to present designs, how to promote your business, or how to design a logo, you naturally come across this unique and powerful mockup generator. The questions you ask yourself are:
How do you use Placeit? Which possibilities does Placeit provide? Is Placeit profitable for a Print-On-Demand or Dropshipping business?
The simple answers are yes, it is easy and profitable to use and the possibilities are unlimited!
As a full-service provider for Print-On-Demand and Dropshipping, we here at Shirtee will share our answers in detail based on our experience in the sector of e-commerce.
What is a mockup:
A mockup is an easy way to present your design to your client. A mockup is a full rendering of your design on one or more products like t-shirts, labels, mugs or stationery. A more complex mockup however might show a book on a bookshelf or play in a video, displaying the world the product will inhabit.

But let us answer your questions in detail:
1. How to use Placeit
Placeit is very simple to use with an intuitive and straightforward webpage. Useful tutorials are placed in the FAQs with additional highly responsive support if you do have problems.
Simply upload your design or idea to Placeit. Choose which of the thousands of mockups, templates or videos you would like to feature your design in and Placeit will do the rest. Download your mockup for promotion on your webpage, your store, your social media, anywhere! It's that simple!
If you would like to know more about individual steps in Placeit, stay in this Section:
Go to placeit.net and check for freebies.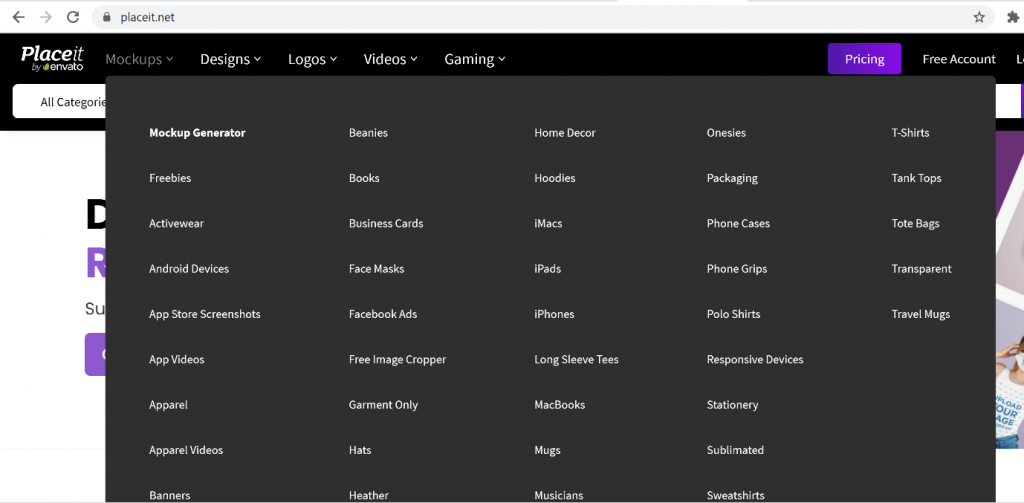 Placeit will show all free mockups and templates you can choose from. On the right, you can see how they look. On the left they are listed to make your search easier: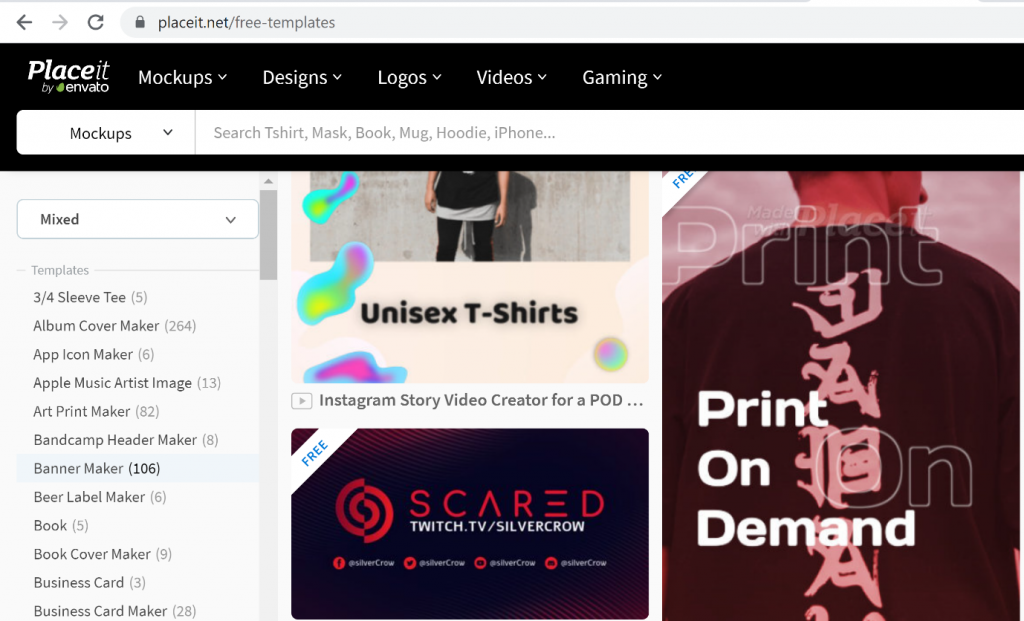 After you found a template you want to use, click on it to see your options:
Add one or more images depending on the template. That is your first step.
Afterwards, you can add text, your logo or graphics as you like.
For our example, we chose a template with two images.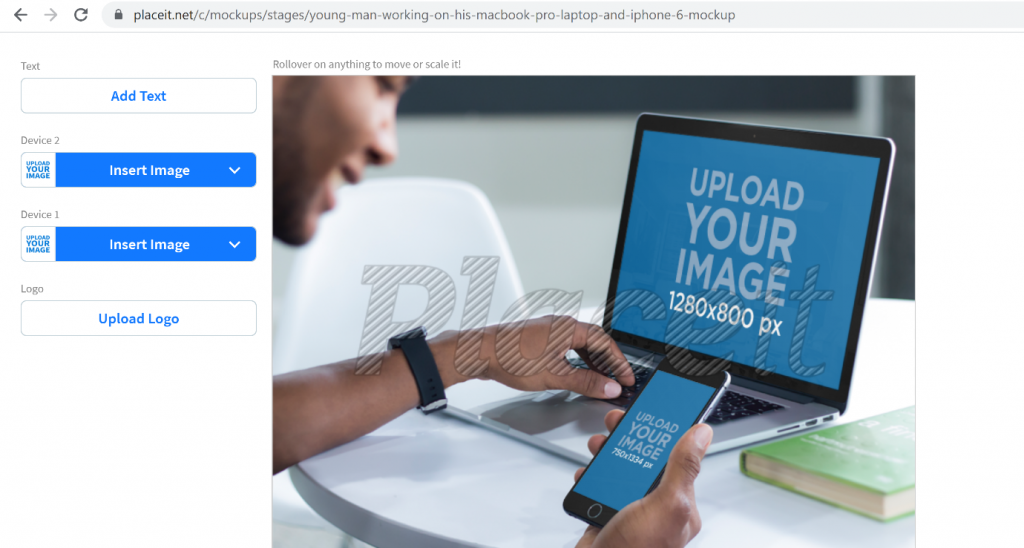 In case your Image does not fit the size, a simple to use cropping tool pops up.
Use the fader to control the size and get the proper size of the image needed.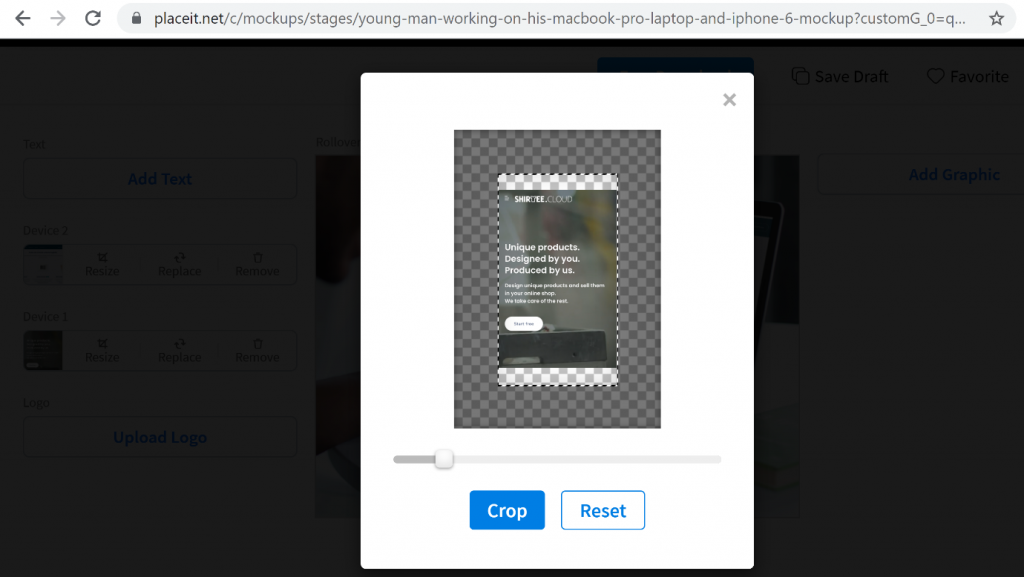 Placeit now will insert your image into the template to create your mockup.
Within seconds it is ready to download.
The whole process including waiting for Placeit to create the mockup and downloading it took us less than two minutes!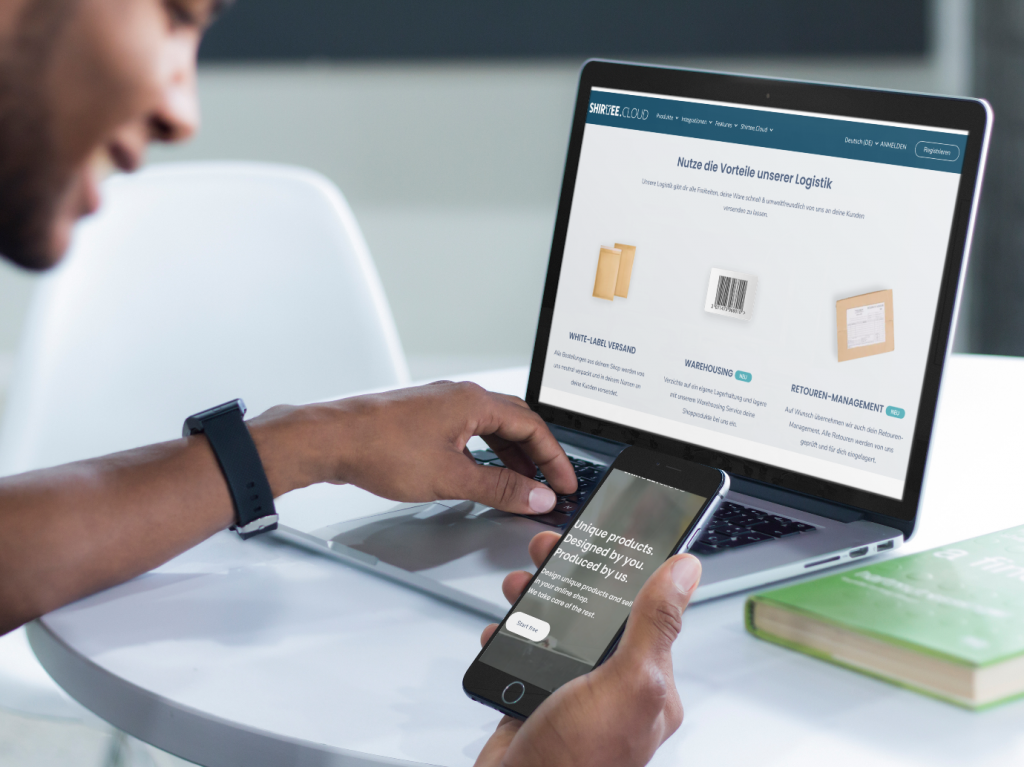 In less than two minutes we received an actionable picture to promote our homepage on several devices. This is just one example of how easy, simple and fast it is to use Placeit.
However, the templates and the different possibilities to use them are endless.

What are these endless possibilities and unlimited ways to use Placeit?
We will give an overview in the next paragraph:
2. Which possibilities does Placeit provide its users?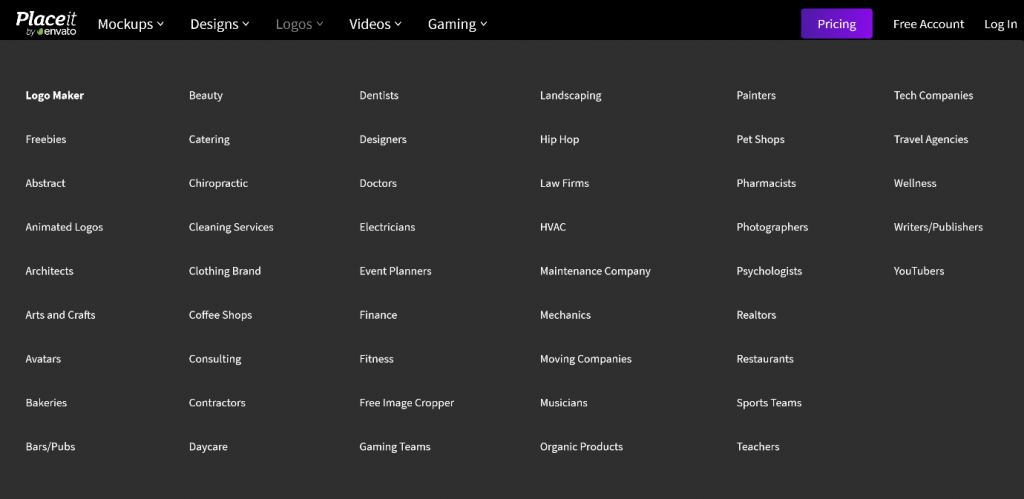 Placeit is a powerful online mockup generator. With over 30.000 mockups and adding more on a regular basis, there is no competition that can keep up with Placeit. Placeit also gives its users the opportunity to suggest mockups, templates, ideas, which they would like to see!
Indeed, this service alone would make Placeit a useful tool.
Yet they are a dominant video and design template generator as well.
The services Placeit provides, fall into four general categories:
Mockups
Above we showed how to use Placeit and its mockup generator. Here we will show how you can choose from a variety of options, other than just the product you want to promote, for example sorted by:
– gender you can decide which model suits your promotion best, boy or girl, man or woman.
– age Placeit gives you options to choose your model anywhere from baby to senior
– ethnicity is an even more specific option, if you are promoting a niche in need of such specific results
– setting lets you choose anywhere from outside, inside, industrial or even a preview in an app-store for instance
– size lets you choose while keeping in mind where you want to post, have the right size for a Facebook ad or a Pinterest post in an instant on hand
– niches is of course one more helpful way so you find what you need
These mockups not only target your niche audience but also save you precious time and money by taking most of the process off your hands.
Designs
Here is where Placeit really shines. Let us show you how to use Placeit in sheer endless ways to promote your designs, no matter the platform, audience or niche:
Placeit provides you with templates for numerous social media platforms including: Facebook ads, Facebook banners, Instagram, Pinterest, Twitch, Twitter and many more.

If you use the free banner maker, you can download different banners formatted for all the different platforms you want to target!
Marketing was never so easy, with just a few clicks you can save hours of your time and spend less money in the process.
If you add your logo to the mix, you can streamline your marketing, branding and promotion just as easily! So let us take a look at logos
Logos
A logo is always the first step in branding yourself or your company. It is also the most important step in the process, since it is how your customers will remember you or your business visually.
You can choose from a wide range of template options or use the free logo maker.
A quote from the Placeit homepage:
Each Logo Maker is designed by a team of professional graphic designers so no matter which template you choose, your logo will look incredible. Skilled artists make sure each logo is fine-tuned and will look incredible for your brand or business.
Videos
Videos, and especially YouTube, are constantly growing in importance in relation to marketing. Making videos via templates is yet another way Placeit can help you get instant results that look amazing.

The amount of detail Placeit provides is stunning:
There is a free cropping tool for videos, so you don't have to spend a lot of time searching or converting the designs you want to use.
Catering to the use of YouTube Placeits customers receive YouTube thumbnails and end cards. And they also throw in a video to GIF converter.
An animated video and ads library with close to a thousand templates is included as well.
In addition, an intro-maker and intro templates let you customize your videos even more.
You can use a keyframe preview to edit and see changes live.
The cooperation with Recordit lets you use the free tool within Placeit to record your screen for up to 5 minutes, so you can use designs quickly and access them easily while creating your videos.
Last but not least you can use the audio library, completely licensed and free to use for commercial purposes!
Placeit has a fourth major feature on its webpage: gaming.
This does not have to be your niche, although if it is, you´re in luck and can use even more templates and ideas. But this section is a great overview for any customer to see how to use Placeit and its endless possibilities. You get a sneak peek into various forms of how to use Placeit or get inspired by ideas presented there! Therefor making the section invaluable to all customers!
So do you think Placeit is worth a subscription?
3. Is Placeit profitable for a Print-On-Demand or Dropshipping business?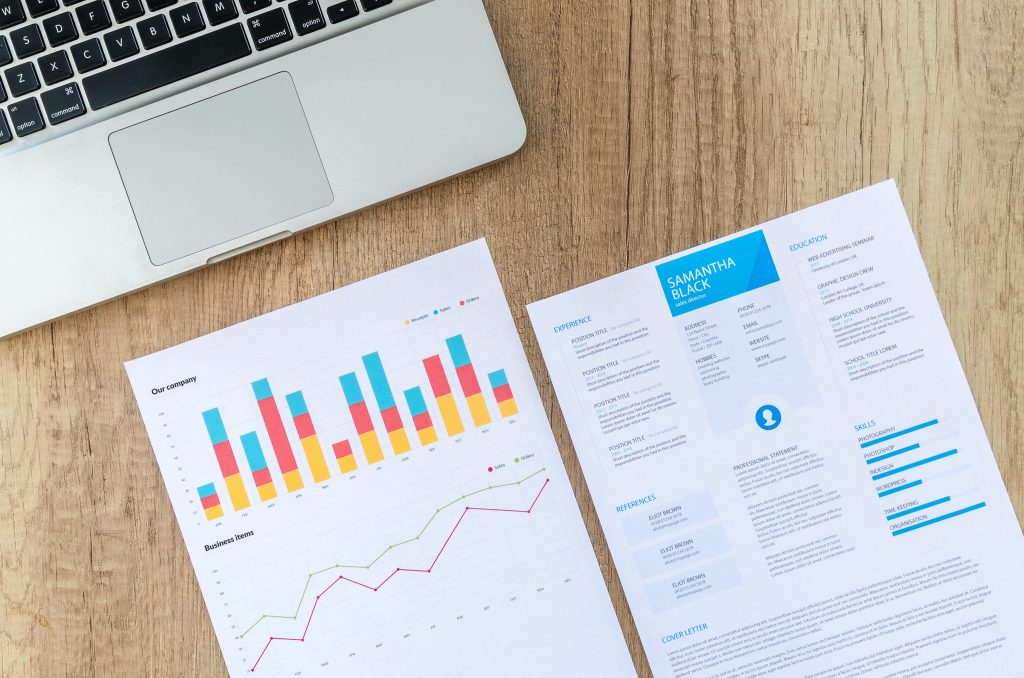 Placeit saves you time and money!
Pricing is set at $14.95/month or $89.69/year which equals $7.47/month or saving 50%!
You also have the option to download single creations, although with prices starting at $2.99 we wouldn´t recommend it!

Depending on how detailed your designs are and seeing what Placeit covers, it can be worth thinking about replacing to pay for a design tool with a Placeit subscription.
It is up to you to decide, whether customized templates are enough for your business or if you actually need the all-around service a design tool provides.
But even if you decide to keep the cost of a design tool, the time you save with marketing and promotions alone is worth considering Placeit.
However, if you sign up for free, you can use a lot of the templates and tools anyway. Although limited in possibilities, it is a great way to familiarize yourself with the services provided and get a feel of how to use Placeit.
Scroll to the bottom to see an exclusive offer for Shirtee customers to save 15% on any subscription!

In conclusion, we have established how to use Placeit. You have a summary of the possibilities Placeit offers. You have received arguments weighing if using Placeit is profitable for your business. We think it is absolutely worth the price considering the tools, the endless possibilities and the detailed options when it comes to customizing and catering to different audiences and niches. Importantly Placeit saves time, making it invaluable for business owners.
On top of that, you get to use most features for free, which just shows how convinced Placeit is of its services.


If you are convinced too or want to use this offer at any other time, get 15% off from any subscription by clicking the button below!