Number 5 has woken up and received his first orders. With full speed he drives to the received meeting point and starts digging. His goods are a little deeper in this modern structure, which looks like a cube. His buddies come to help him, they all join forces. Finally, number 5 reaches the grey box with the number 354.210 and drives it at over 11km/h to the next port. There, a so-called picker is already waiting to collect the goods. Number 5 knows that this item will give someone pleasure! Afterwards he buries the box again where it has been and starts to dream…
(from here on the story repeats itself all over again)
An exciting, but also particularly challenging year is behind us. We are happy that we not only got through the crisis well but were even able to reach our next milestones. More than a year ago we started planning for our new headquarters and today we would like to present one of the most important innovations. We are extremely proud to share this development with you and state in this blog post what our new warehouse system is all about and how you will benefit from it.

Our goal: Revolution!
The relocation to our new premises was and is for us the opportunity to rethink and redefine all processes regarding fulfillment. For us, fulfillment means more than just processing orders from manufacturing to shipping. For us, it also means being a strong e-commerce partner.
Thereby, we want to make our service not only increasingly reliable, but also more efficient and faster as well. We want to be one step ahead of tomorrow. Because we know what responsibility we have for you and how important a smooth process is for your business. That's why our existing storage system has been given a pioneering upgrade.
Redefining space: Warehousing and Fulfillment 2.0 at Shirtee.Cloud
Our warehousing & fulfillment service is becoming increasingly popular. You can store your own products with us and simply leave handling of orders and shipping to us. Through the connection to your external online store, fulfillment is fully automated.
During the trial phase, the system was offered to a few customers and, after a lot of lessons learned, has now become a fixed component of our range of services. With an increasing number of customers, there are a few challenges that have had to be mastered.
Walking long distances, for example, was not always easy for our commissioners. After an 8-hour shift, there were easily 15,000 steps on the pedometer. With exhaustion, the potential for errors increases and with a growing number of warehouse items, that problem intensifies even more. To prevent this from happening in the first place, we have taken the next step.
First German POD partner with Autostore storage system
As the first German print-on-demand provider, we have completely converted our warehouse to digital and can offer an unprecedented service: Thanks to Autostore.
The Autostore is a storage system that runs fully automated. Basically, you can picture it as a giant cube. If you look at it from above, it resembles a chessboard pattern. Each field is a tunnel leading downwards, in which boxes, also called bins, are stacked. Driving on top are red robots, each of which can lift a bin and bring it to a port. One of our employees then picks up the items from the bins and takes them to the shipping department.
By the way, each bin is assigned a number and is registered, as are the items it contains. So the system always knows exactly which product is in which bin. Of course, the stock is also recorded and can be tracked by you in nearly real time in the Shirtee.Cloud dashboard. If a product is requested, the Autostore calculates the most efficient way to collect the bin. If the bin is a little lower in the cube, the bins on top have to be removed first. All available robots will then help.
If a bin is requested particularly often, it automatically stays on top so that the robots can get to it faster. Less requested bins automatically drop further down. This way, productivity can be maximised, and space can be used efficiently.
The cube has a total area of only 240 m2 and offers space for more than 8400 bins. We have already stored over 500,000 warehouse products, which are waiting to be brought to the next port by one of the 8 red robots at a speed of above 11 km/h.
Autostore + ERP system = Love
Let me explain to you in the following how the robots find your products. Through the smart connection to our ERP system. Orders from your online shops always arrive in our ERP system. We also use this to communicate the status of the order, which is visible to you in the Shirtee.Cloud dashboard.
By the way, we call the commissioning of products "picking" – somehow it sounds much cooler! Through the connection to our ERP system, orders are transmitted from the online shop. Here, we set rules that best suit our processes. This way, your products find the fastest way to shipping. At night, when none of our employees is busy picking, the Autostore synchronises the orders received. It pre-sorts the bins so that all the required products reach the ports the next day by the fastest route.

Why Autostore?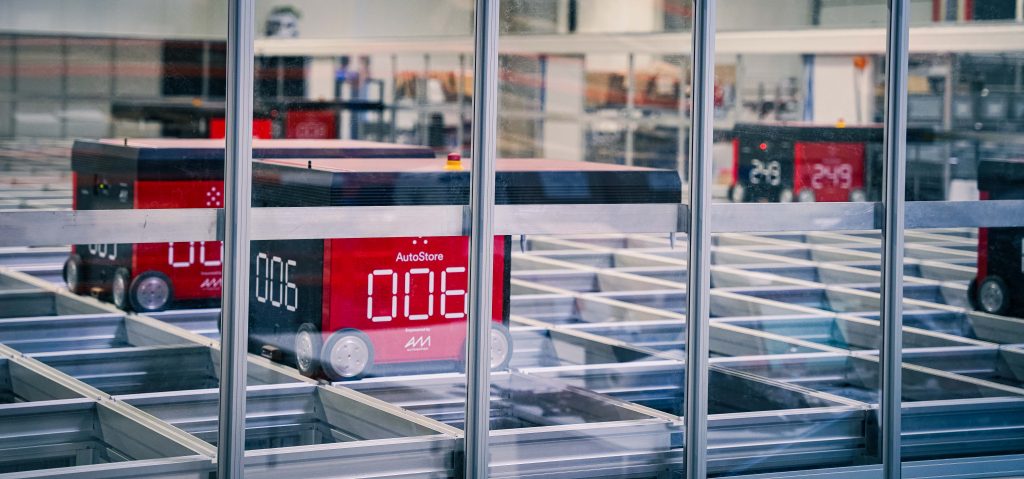 There were more than enough good reasons for us to set up the Autostore.
The Autostore allows us to offer the best and fastest warehouse service ever. We use the space in our new headquarters in the most efficient way: We can use the height of the hall without having to keep aisles free to walk through – after all, the robots drive on top.
Autostore means eco-conscious development
Environmentalism and sustainability are firmly anchored in our company policy. That's why we use machines that consume as little energy and water as possible. Even though the robots are powered by electricity, they can be perfectly combined with environmental protection. Let me explain this in the following.
More products using less space
Did you know that building houses has a really bad record when it comes to sustainability and resources? That's why it's even more important to use the available space as well as possible. Since the robots pack the bins from above, there is no need to keep aisles clear, for example. The boxes are stacked directly on top of each other, so no space is wasted. And best of all: the warehouse can be expanded. So, we have already considered the future!
Regenerating electricity
Our new storage system does not have to fear any comparison in terms of energy consumption either. Taken together, our robots consume just as much energy per year as a standard hoover. And that' s thanks to an intelligent charging strategy that ensures that robots approach their charging station when they have nothing to do at the moment. This allows them to charge much more efficiently. They are also able to generate energy themselves, much like an electric car: the braking energy or the lowering of the gripping plate is used to generate electricity and thus recharge the battery. How cool is that?
Unlike us humans, the Autostore doesn't need light to work. It can therefore clean up by itself at night when everyone is asleep, without anyone having to watch.
Don't the boxes get mixed up all the time?
The Autostore is set up in such a way that it constantly checks at night what the most efficient arrangement of the bins is. By comparing them with our ERP system, the robots know how to restructure and rearrange the bins if necessary. So, we start each day with a freshly pre-sorted system and can get right to picking.
And what happens when the Autostore is full?
Every warehouse has limited capacity, but limits can also be pushed. In fact, the Autostore can be expanded in all directions. If we need more space for your products, we have to expand. We don't even have to stop working to do this but can do it safely during operations.
How you benefit from our Autostore system
Let's recap what this means for you and your online business:
More space for you! You can expand your shop as you like with warehouse products, which we store, pick and ship in a space-saving and fully automated way.

Flexibility! We can expand our warehouse service with little effort and integrate your products. If the space requirement grows, we grow with it.

Faster processing! By optimising all processes, we can usually process and dispatch pure warehouse orders within the same day. Faster is hardly possible!

Always in sight! You can track the stock of your goods nearly in real time, because all relevant information is collected in our systems and transmitted to you.

Reliable picking! Anyone can make a mistake, but with the Autostore this source of error is extremely minimised! Our trained staff ensure that your products are clearly allocated so that incorrectly picked items are a distant memory.
Warehousing & fulfillment of the future is just one of the many innovations that the year holds in store for you and us. So, you may be curious about what is still to come!
Have you ever thought about expanding your shop with warehouse items? Now is the best opportunity to do so! So, get to the search engine and find products to expand your range of products. We are looking forward to your warehousing request.