You are new to eCommerce or have already gained a foothold? If you're looking for exciting brand new products for your online shop that you can offer your customers via dropshipping, design your own logo socks with Shirtee.Cloud now.
Don't get cold feet
"One can never have enough socks" Albus Dumbledore says in the first Harry Potter book to the most famous wizard in the world and he is absolutely right. A stylish pair of socks can add coolness to an otherwise boring outfit. As a gift for friends and family or as a new dropshipping product with the potential to be a big seller – with the white print-on-demand socks from Shirtee.Cloud you'll get your foot in the door at lots of customers!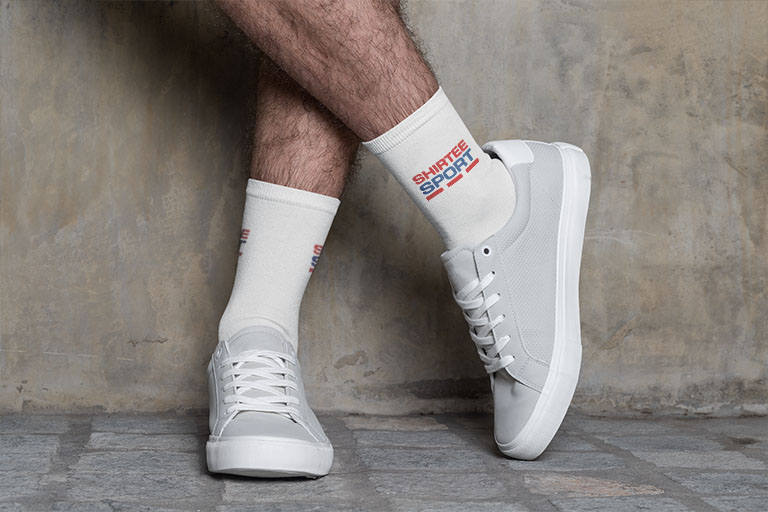 Design your own socks
An online survey by the market research institute GfK Switzerland has revealed that every German buys about 14 new pairs of socks a year on average.1 Create socks with your logo or design now and make sure that all lame pairs disappear from sock drawers. The customizable white print-on-demand socks are available in two sizes (37-40 and 41-45) and made of 35% nylon, 60% cotton and 5% elastane. The printable shaft is made of nylon and the foot part of cotton, which makes the socks extra comfy. The socks are ideal as a gift idea for holidays such as Mother's Day, Father's Day or Christmas and can be printed with your logo to match your brand. Plus, how about socks for every day of the week in your design?
Socks + Dropshipping = Sockshipping
Once you have designed your new favourite pair of socks, import it into your online shop or marketplace. Shirtee.Cloud offers a wide range of integrations for shop systems (e.g. Shopify and WooCommerce) and marketplaces (e.g. Amazon and Etsy). This way you can reach your target group and knock everyone's socks off! When somebody places an order in your online shop, we take care of the fulfillment including production and shipping. We print, pack and ship your custom designed socks to your customers in your name within 2-3 days.
What are you waiting for? Get going and create your own print-on-demand socks with Shirtee.Cloud!
1 Source: https://www.horizont.net/planung-analyse/nachrichten/12-Paar-neue-Socken-pro-Jahr-151514