You've decided to start your print-on-demand and dropshipping business with Shirtee.Cloud. Yay! In this article we' ll give you detailed instructions to make the start as easy as possible. In seven steps, we'll explain the process from creating an account to selling your first product. Let's go!
Step 1: Create Your Account
To sell your own print-on-demand items with Shirtee.Cloud, you create an account first. To do so, simply enter your data here and confirm by clicking "Sign up". To receive news about new products and valuable tips, you can also sign up for our newsletter. There are no hidden costs at Shirtee.Cloud. Your account is completely free and will remain so.
Step 2: Connect Your Online Shop or Marketplace
Next, connect your webshop or marketplace with Shirtee.Cloud. Here you will find an overview of all shopsystems and marketplaces that you can connect to Shirtee.Cloud. This either works with a free app (e.g. for Shopify) or an API integration. Simply navigate to your online store or marketplace in the overview and connect it to Shirtee.Cloud.
Step 3: Create Your First Product
What do people with a basement office say before starting work? Let's get down to business!
After you have successfully connected your brand new Shirtee.Cloud account with your store or marketplace, you can already create your first product. In the Shirtee.Cloud Dashboard or in the app of your shopsystem you find the Shirtee.Cloud Creator. Just upload your design there or use our text tools. To get inspiration for your designs, check out the other pages of our blog. We regularly publish posts about new products and design ideas. For a quick tutorial on how to sync your product with your store system or marketplace, check out the corresponding tab in your Shirtee.Cloud dashboard.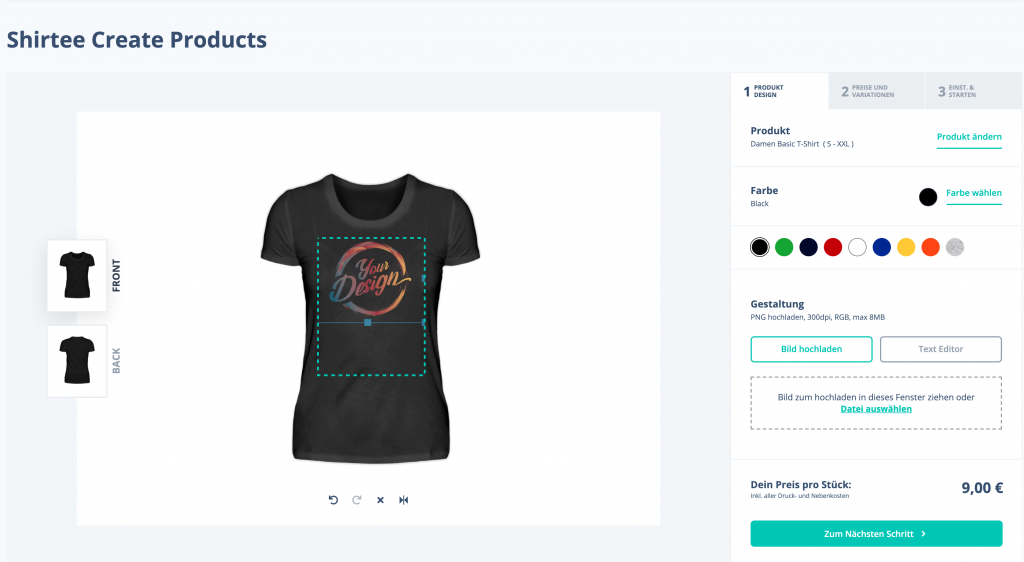 Step 4: Set Your Prices
With Shirtee.Cloud you have full control over your prices. When you create a product, you can set the selling price yourself. Take into account how much the product will cost you to produce. For example, if the production costs for a self-designed T-shirt are 10 euros and you sell it for 25 euros, your margin is 15 euros per shirt. However, margin does not equal profit. Your margin is the difference between the sales price and the production costs (e.g. 25 € – 10 € = 15 €). Your profit is the amount you have left after deducting all expenses. You will not only be charged for production costs, but also for shipping costs. How you deal with these is up to you.
You can pass them on directly to your customers, increase your sales prices or cover them yourself. The production and shipping costs will be invoiced through your Shirtee Wallet (see step 5).
However, when setting your prices, you don't just have to keep an eye on the costs of production and shipping. To make a profit at the end of the day, fixed and variable costs should also be included in your calculations. To get a better overview, you can make a list of all the expenses you have to deal with. Fixed costs are things like the monthly fee for your store, subscriptions for graphic software or image databases, or costs for hosting your webshop. Variable costs are, for example, sales commission, one-time costs for themes and plugins or various marketing tools. But your working time should also be worth something to you and flow into the pricing. To ensure that your business is successful and remains profitable in the long term, plan your prices thoroughly.
Step 5: Set up Your Payment Methods
For a smooth billing of your self-designed, perfectly calculated (😉) products, keep two things in mind. First, set up a convenient and secure payment method for your customers in your store or marketplace. Depending on the system, you have different options to choose from. According to Statista, the most popular payment methods are PayPal and invoice payment. Direct debit and credit card come next.
Secondly, we charge the production and shipping costs through via your Wallet according to the prepaid principle. You can find the wallet in your Shirtee.Cloud Dashboard. In order to process your first orders, your wallet must be charged with at least €50. You can simply do this via your dashboard using PayPal, bank transfer or credit card. Your costs will then be automatically deducted from your balance. Tip: activate the auto-recharge function in the Shirtee Wallet. As soon as your balance is less than €50, it will automatically be topped up with an amount specified by you. This way you will always remain in the plus!
Step 6: Order Test Products
Sure, you want to take a good look at the quality of your products before you let your store loose on the world of e-commerce. That's why we strongly recommend you to order test products first. The easiest way to do this is to give yourself a 100% discount code and free shipping in your store. This way you don't have to pay via your store, but automatically with your wallet credit.
Pro tip: If you already have your products there and are happy with the quality, shoot a few product photos right away. If they look good and show your products in detail, your store will look even more "real". In addition, this can help to avoid returns later on.
Step 7: Get to Marketing!
Your store is online, your products are ready, your payment methods are set and your wallet is charged. Now you're ready to go! To reach your target group, think about suitable marketing strategies. Try advertising on popular social media platforms like Facebook, Instagram and YouTube. Make sure to draw attention to yourself and your print-on-demand products. You can find lots of helpful marketing tips here on the blog or on our YouTube channel. Especially in the beginning, it can be hard to reach new people. But keep going and work on making your store stand out. Then you'll soon be selling your first products!
Cool That You're With Us 🎉
That's it. If you follow these seven steps, your online business with Shirtee.Cloud is ready to go. If you have any questions, take a look at our FAQs or check out our support. We at Shirtee.Cloud are happy to have you on board and keep our fingers crossed for your print-on-demand and dropshipping business!
Header: Photo by Lindsay Henwood on Unsplash