Once you've created your own store with Shirtee.Cloud or sell your print-on-demand products on popular marketplaces, you're on the right track. But despite unique designs, your t-shirts, hoodies and mugs just don't sell well?
Then it's time to boost attention for your products with effective marketing! In this blog post you will get an insight into Instagram. I'll show you the advantages of the social media platform and give you tips on how to get started.
The Advantages of Instagram as a Marketing Tool
Last year, more than one billion people worldwide used Instagram. In addition, over 500 million people use the app's story function every day.1 This gives you a huge target group on Instagram and numerous opportunities to sell your print-on-demand items.
In addition to the huge reach, Instagram offers you the opportunity to get in touch with your customers right away. Using the comment function under posts and Instagram Direct, you can communicate with your target group directly.
Instagram also offers business accounts that allow you to use the app professionally for your business. This gives you access to statistics, makes it easier to run ads, and sell your products directly through the app with Instagram Shopping. All these tools can help you grow your online business and increase your sales. In the following sections, you'll learn how to use Instagram for your business.
How Do I Use Instagram for My Business?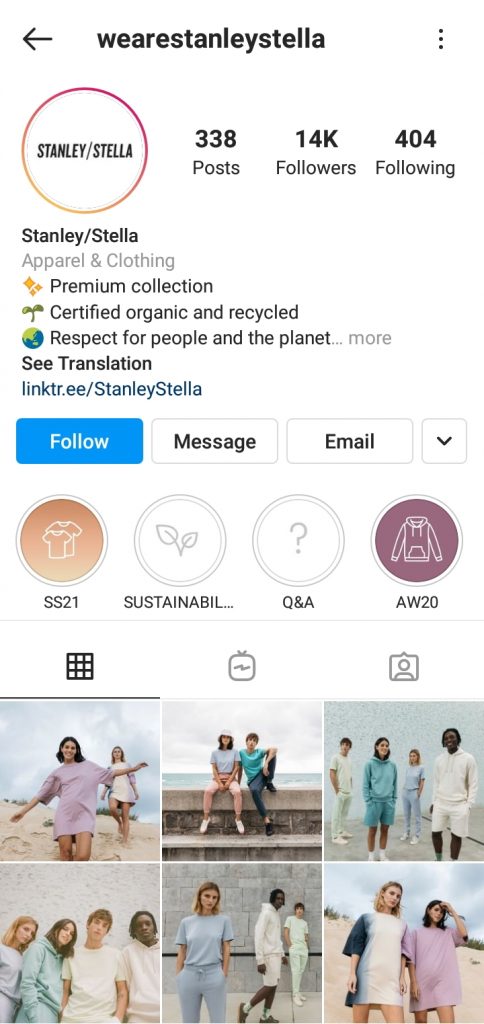 How to Create a Business Account on Instagram
First, create a new Instagram profile by registering with an email address or Facebook account. If you already have a business page on Facebook, it's best to use the same email address for Instagram. You can also switch your existing Instagram profile into a business account. To do so, simply click on "Switch to business account" in the settings under "Account".
Choose a username for your profile and add a picture. This could be your company logo, for example. Then enter your contact details, such as email address, phone number and address. With a company profile it is mandatory to have an imprint, so be sure to add one – e.g. by linking to your store in your profile.
Also, develop a strategy for your Instagram account. In what time frame do you want to reach a certain number of posts or followers? How do you want to promote your print-on-demand items? Why should someone follow your business page? To answer these questions and more, "visual storytelling" can help you.
Visual Storytelling
To be successful on the photo and video platform, you need to tell a story. By choosing the right images, exciting videos and stories, you can strengthen your company's image. At the same time, you attract attention to your products. It is up to you to determine how the world sees your business.
Limit yourself to one topic per post. For each post – whether it's a photo or a video – focus on one main topic. This could be your newest product or a new design you're launching soon.
Choose the right ratio. Because of the design of the app, not all aspect ratios look the same. For a classic post in your profile, choose a 1:1 ratio at best, for reels and stories 9:16. You can also post videos for IG-TV in a classic 16:9 landscape ratio, but usually square posts and stories in portrait mode perform best.
Empathize with your target audience. When creating successful content, it helps to understand your audience's interests. Think about what photos and videos your customers would like to see, and appeal to their emotions. For each post, ask yourself if you would scroll further or want to learn more.
Why are your products special? In all your posts and stories you have the opportunity to attract new customers. So why would someone buy that particular t-shirt, cap or hoodie in your design? If you're making print-on-demand products for sports fans, post a photo of your shirt being worn while jogging, for example. Either shoot product photos yourself or use platforms like PlaceIt. There you can easily create realistic mockups.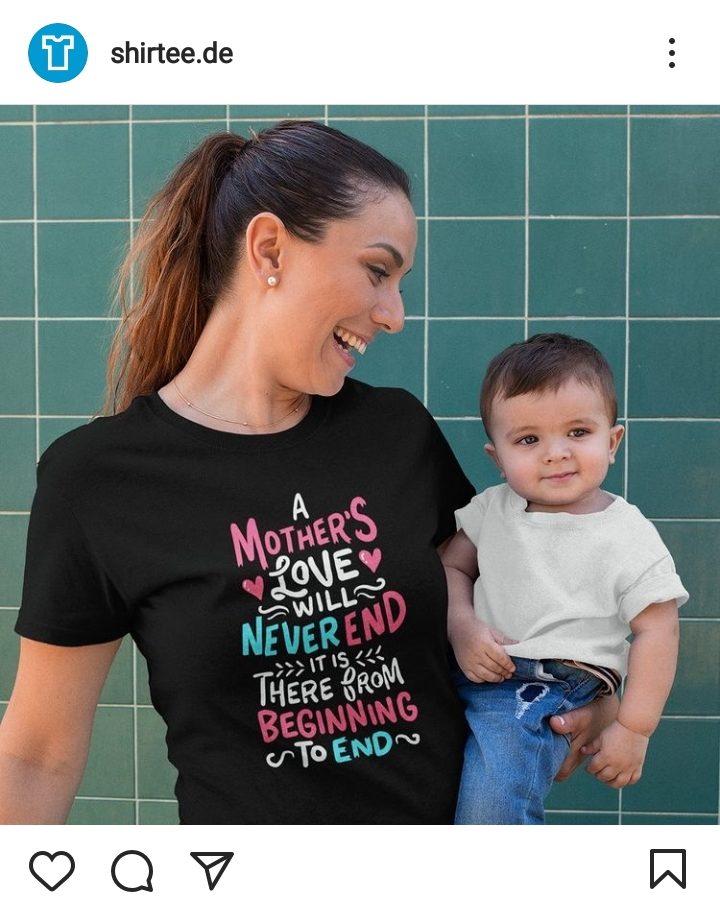 How to Use Hashtags
Hashtags categorize content on Instagram and can help your business to be discovered in searches. You can use them in posts as well as in your story. But how do you really use them effectively?
First, find out which hashtags are relevant for your target audience. Do your own research on Instagram to find hashtags that fit your products. You sell POD items for moms? Then try using #mothersday or #momlife, for example. Depending on the hashtag, you can reach hundreds of thousands of users. But be careful. The bigger the hashtag, the faster your post will fade away. So instead, use hashtags that are tailored to your target group and don't reach too many people. For inspiration, you can follow some hashtags yourself. For example, search for #momlife and click on "Follow". Apart from topic-specific hashtags, you can also try using some that are currently trending.
Must-Dos for Your Instagram Account
In the beginning, it can be hard to reach new people and get attention for your products. So to build your page, post new content frequently. As you build your page, it's best to post every day. Then, when someone discovers your page, it already tells a story about you and your business. Also, to maintain consistency, have just one person in charge of your site. This can be yourself or someone creative from your team. Also, respond as quickly as possible to comments under your posts, replies to your stories, and direct messages.
As mentioned before, a major advantage of Instagram is the direct interaction with your customers. It' s a social platform – so interact with people. Share posts that relate to your business, comment on photos and encourage your followers to do the same. For example, you can combine this with a giveaway. Raffle off a T-shirt from your product portfolio to a person who likes the corresponding post and mentions someone in the comments. This way you can organically reach new customers.
Promotions on Instagram
With a business account, you can promote your posts or stories in just a few clicks. This way, they will be seen by even more people, which can increase your sales. To do so, follow six easy steps:
Choose an already published post or story. This can be your latest product, for example.
Click the "Promote" button below the post.
Select the goal of your campaign. You can choose between More profile visits, More website visits or More messages.
Select a target audience. Either let Instagram automatically choose a target audience to show your post to, or decide for yourself. You can determine things like location, age, or interests.
Set your budget. Depending on how much money you spend on your ad, the potential reach will change. You just have to set your daily budget and the duration of your campaign. You can start your first campaign for as little as €1!
Wait until your campaign has been reviewed and approved, and then evaluate its success for future promotions.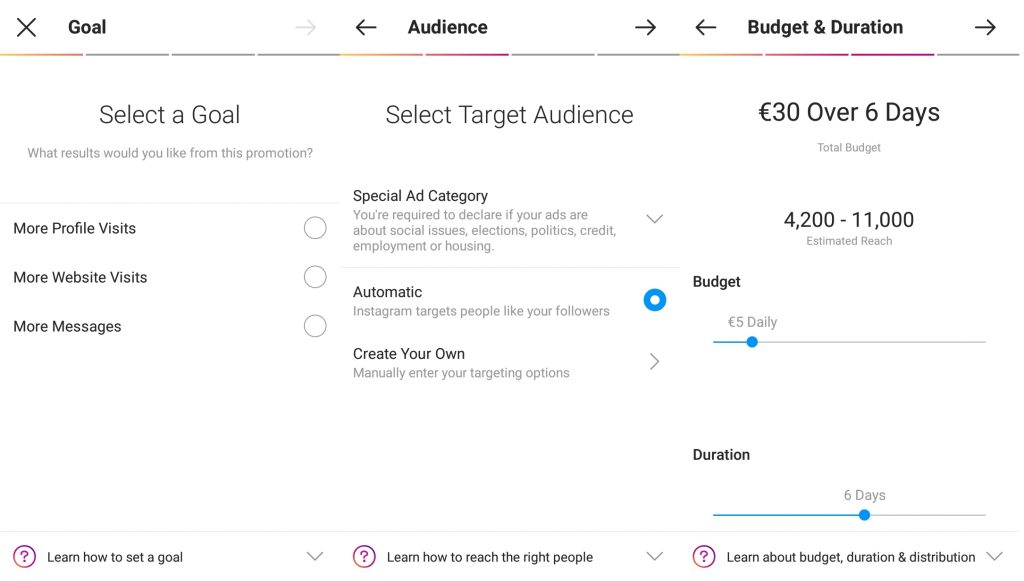 Your Turn!
I know that was a lot of input. If you haven't used Instagram before, it can be a little overwhelming. But: you don't have to follow every tip right away. Just think about the ideas you want to use and the ones that don't fit your business. Only pick the actions that make sense to you. This way you will figure out the right way for your business. Also, don't worry if you don't see results immediately. The most important tip for your marketing is: keep it going! Only if you stick with it and learn from your mistakes, Instagram will help your dropshipping business. Instagram is also not the only way to market your business. In our Marketing Tips blog section, you can always find posts that will help you build your brand.
Last but not least, you will only be successful in the long term if you offer good products. So don't just develop your marketing skills, but also expand your product portfolio. At Shirtee.Cloud, we regularly add new items to our portfolio that will make your target audience happy and help you reach new people.
Header: Photo by Kate Torline on Unsplash
1 Source: https://www.futurebiz.de/artikel/instagram-statistiken-nutzerzahlen/
2 Source: https://www.facebook.com/business/instagram/shopping