Good reasons to use the Shirtee Returns Management
Particularly in the e-commerce trade in fashion, one can assume that every second package will be sent back. This means that every second package we ship for you goes back to your address.
This means accepting, unpacking, checking and storing packages for you. This costs a lot of time and, according to the portal retourenforschung.de, costs of up to 17.70 per return are incurred.
Use this time better and let us take over your returns management,
The advantages of our returns program
Our returns program offers you various benefits that you would not have with a normal, manual returns system.
So you put the return program in your shop
With our print-on-demand dropshipping solution, you outsource the production and shipping of your items so you can focus on marketing and growing your business.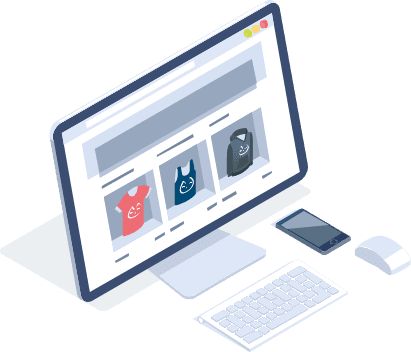 Sign in to the Shirtee.Cloud dashboard for the returns program.
Embed our returns iFrame on one page in your online shop. From here we take care of the rest.
In the case of a return send the link of your return page with the iFrame to your customer.
Your customer fills out the form, the return is registered with us and we send your customer a shipping label by e-mail.
Your customer packs the goods and sends the package to our address.
As soon as the goods arrive, we take care of the goods inspection, storage or new production.
€10.00/ Month
monthly fee
Once you have registered with our returns program, you can return returns to us at any time.
€1.45/ per order
warehousing
Allows you to put back returned items
quality control
warehousing
Return Address Labels
€1.45/ per order
Basic price per order
Basic price for processing an order whose products you have stored.
€0.45/ per item
Price per item
Price for storage and packaging.
Example: Your customer orders 2 items from your shop, which you have stored in our returns. Then you pay a total of 2.35 € for processing, storage and packaging ( 1.45 € Grundbreis per Best. + 2 x € 0.45 for the two items).
Give yourself more time for your business
Register now for our returns program, so that you have more time for your business.